Category:
- Radio Irrigation Controllers
Solenoid valves are essential for the automation process of your irrigation system. If you're having trouble connecting your cable to your valves, HR Products can gladly assist.
Our radio systems offer various line-of-sight (LoS) options, allowing you to rest assured in the knowledge that we will find the perfect system for your requirements.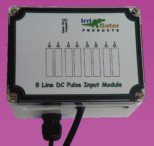 The Gator Budget Parallel wireless irrigation control system can be interfaced with most standard irrigation controllers on the market. The Gator system can be either newly installed or retrofitted to any existing irrigation system. Which ever irrigation controller is used, it would simply be linked to the Gator radio transmitter via one or more interface input module/s. The interface input module/s will convert the outputs normally generated by the irrigation controller to control: valves, pumps and other devices, into a unique radio sign
Read More
Read More