The Ferti-Gator SOLO single channel fertigation machine is an accurate chemical dosing unit with optimal energy efficiency capable of injection up to 400 litres per hour with a maximum injection rate of 500kpa. The machine can be operated as an independent stand alone unit or integrated into other irrigation control system. Each machine is equipped with a HMI touch screen providing a simple user friendly interface.
Read More
Read More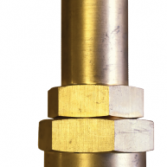 The Gator Quick Relief Pilot is designed to be placed on a hydraulic valve so that once a pre-set pressure has been achieved the pilot will open the valve and vent allowing the pressure leading into the pipe to remain at a safe level.
Read More
Read More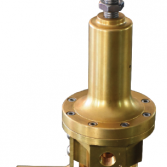 The Gator 3WUI is a 3 way universal pilot valve suitable for pressure reducing, pressure sustaining and pressure relief applications on hydraulic control valves. The 3WUI is manufactured from high grade brass and stainless steel components and is suitable for operation with valve sizes from DN50 to DN200 with a maximum operating pressure of 16 Bar. This product can be used in typical industrial, waterworks and irrigation applications.
Read More
Read More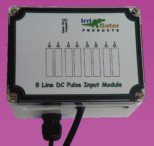 The Gator Budget Parallel wireless irrigation control system can be interfaced with most standard irrigation controllers on the market. The Gator system can be either newly installed or retrofitted to any existing irrigation system. Which ever irrigation controller is used, it would simply be linked to the Gator radio transmitter via one or more interface input module/s. The interface input module/s will convert the outputs normally generated by the irrigation controller to control: valves, pumps and other devices, into a unique radio sign
Read More
Read More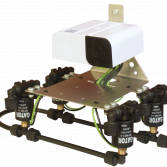 The Gator G Series Radio Module is a decoder module which is capable of activating or deactivating any device using low power radio signals. This module can independently switch from one to four outputs controlling hydraulic devices such as valves and electrical devices such as pumps. Gator radio modules have been designed to consume minimal power and use long-life lithium batteries as their source of energy thereby omitting the need for other methods of externally supplied power such as mains power or complicated solar equipment with cha
Read More
Read More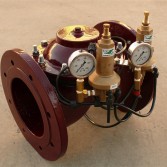 Gator Valves are weir type single chamber valves, designed with simplicity in mind and not compromising on operational versatility. Tried and tested mechanical materials and engineering design concepts have been introduced into the product, making it both durable and reliable in performance. This range of valves can be used in industrial, waterworks and irrigation applications.
Read More
Read More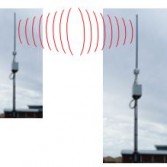 Gator Point to Point Radio Modules are independent modules that can be wirelessly linked to perform the switching of remote devices or over the air transmission of flow meter pulses. Useful in many irrigation and water automation applications such as - • Starting and stopping of primary / booster irrigation pumps. • The filling of tanks from borehole pumps for stock watering or domestic consumption.
Read More
Read More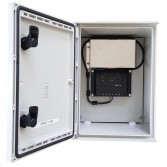 Gator Solar Power Supply gives the end user confidence that they are using the installing a quality product with great protection both electronically and from the weather. Featuring a sheet moulding compound cabinet fitted with double locks, rubber door seal, mounting bracket ensures that enclosed equipment will remain in top working condition. Enclosure is rated to IP66 with a UV Life expectation of 25+ years.
Read More
Read More