- Commercial
Used in the larger projects when you need extra features of a controller.
Hunter Pro C Face Panel Upgrade
Features:
Upgrade Pro-C modular and fixed station controllers manufactured since March 2014 to the Hydrawise™ platform
Wi-Fi enabled for fast and simple internet connection
Full-colour touch screen
Built-in milliamp sensor for detection of wiring problems
Click to enquire
Hunter Wireless Flow Sensor (WFS)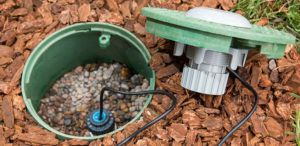 Features:
Feeds flow data to controller for flow recording and monitoring purposes
Robust waterproof construction
Provides station level flow monitoring for reaction to high or low flow conditions
Click to enquire
GSI Solar Kit 5 watt
Application:
Code : GSISOLAR
Used to power Galcon GSI DC controllers with an external battery system to enable live 24hr, 7 day communications with server (software must be enabled to become online).
Can be used on other systems where 12 volt DC power is required.
Features:
200mm x 200mm x 130mm weather proof above ground enclosure box
5 watt Solar panel with 3 metres of lead
Voltage input protection from solar panel to battery
Adjustable voltage output limiter (set at 7.3 volts for GSI)
Click to enquire