Category:
- Commercial
If you have a big irrigation project coming up, our commercial controllers will allow you to keep track of your water needs and easily implement irrigation solutions.
Our high-quality systems and supporting parts like remote controls and radio receivers allow HR Products to satisfy all of your commercial project needs.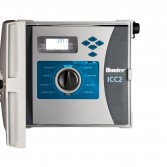 Hunter's classic ICC commercial controller led the industry for more than a decade with its simplicity, reliability and power in as upper competitive package. Now it's back with enhancements that will catch your eye, not hurt your wallet. ICC2 builds on its predecessor's legacy by enhancing surge protection, increased station count and adding a large backlit display.
Read More
Read More