Dura Reclaimed Water Valve BoxesOur Products
Dura Reclaimed Water Valve Boxes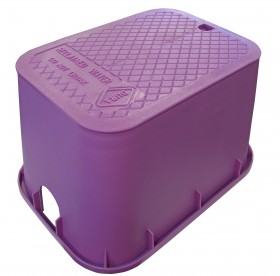 Related
Products
Valve Box Dimension Details
Hunter I-20 Commercial Rotor
Application:
Code : Hunter-I-20
With 22 nozzle choices, a 4.9 to 14.0 m radius, and 6 body choices, the I-20 is an indispensable rotor. Whether you've got a small area, sandy soil, or a mix of shrubs and grass, the I-20 is ready to water with efficiency and reliability. Recent improvements include automatic arc return; non-reversing 360, from 50 to 360 degrees; and a non-strippable, vandal-proof drive mechanism that prevents gear stripping and saves repair costs. Adding FloStop® control, easy through-the-top arc adjustment, and a standard drain-check valve all equate to a rotor that stands second-to-none in its class.
Features:
Patented non-reversing 360
Saves water, reduces liability
Automatic arc return
Blue square top nozzles
Patented non-strippable, vandal-proof drive mechanism
Five-year warranty
Thick rubber cover
Click to enquire
Hunter I40 Commercial Rotor
Application:
Code : Hunter-I40
The I-40 is a tough commercial rotor that delivers water with accuracy and efficiency at distances up to 23.2 m. Featuring diverse three-port nozzle options, a non-strippable drive, and a thick rubber cover built to prevent injury; it's no wonder this rotor is found in more stadiums than any other in the world. With the strength of stainless steel, the I-40 is built to last in the harshest sports, public park, and commercial environments. If efficiency, effective irrigation, and beautiful results are the goal, the I-40 is the irrigation professional's best solution.
Features:
Easy arc adjustment
Non-strippable, vandal-proof drive mechanism
Automatic arc return
Proven and tested water-lubricated gear drive system
Primary nozzle system has six interchangeable nozzles
Secondary nozzles offer exceptional coverage
Click to enquire