Dura Reclaimed Water Valve BoxesOur Products
Dura Reclaimed Water Valve Boxes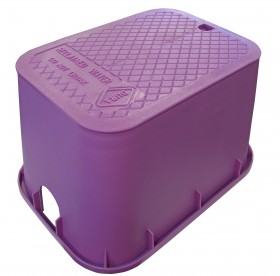 Related
Products
Hunter SRM
Application:
Code : SRM
The SRM is Hunter's shortest-range rotor, and was designed to offer a convenient and efficient alternative to spray heads. It is capable of working in tandem with larger rotors to combine big and small areas in a single zone. Utilizing the SRM where appropriate results in fewer sprinklers performing more efficient work at a more economical price. The SRM features a rack of six water-efficient nozzles—all of which can be easily identified by its flow rates and installed and changed quickly and easily. This versatile rotor also includes a radius adjustment feature that fine-tunes the spray to keep water off driveways, walks, and other non-landscaped surfaces.
Features:
Radius adjustment up to 25%
Part circle and full circle operation in one unit
Quick check arc/fast forward
Proven water lubricated gear drive
Heavy-duty pressure activated riser seal
Variable stator
Extra large filter screen
Click to enquire
VYR155 32mm Brass Impact Sprinkler
Hunter I25 Commercial Rotor
Application:
Code : Hunter-I25
The I-25 gets the job done with power, efficiency, and commercial-grade reliability. With a robust watering radius of 11.9 to 21.6 m, this rotor can be used in a variety of applications and environments. Its compact, highly durable design comes with an optional stainless steel riser for tough-as-nails strength. With a 5-year warranty, the I-25 also has options for reclaimed water ID and high-speed. A standard check valve is built in, and a wide selection of high performance nozzles are available. Efficient, tough, and built-to-last, Hunter's I-25 rotors work hard day in and day out so you don't have to.
Features:
Easy arc adjustment right from the top
Proven and tested water-lubricated gear drive system
Reclaimed option available
The perfect rotor for commercial and recreational sites
Click to enquire