Dura Reclaimed Water Valve BoxesOur Products
Dura Reclaimed Water Valve Boxes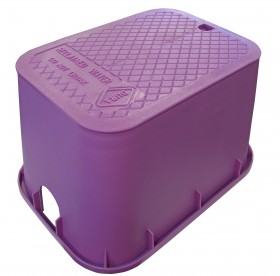 Related
Products
Valve Box Dimension Details
Hunter SRM
Application:
Code : SRM
The SRM is Hunter's shortest-range rotor, and was designed to offer a convenient and efficient alternative to spray heads. It is capable of working in tandem with larger rotors to combine big and small areas in a single zone. Utilizing the SRM where appropriate results in fewer sprinklers performing more efficient work at a more economical price. The SRM features a rack of six water-efficient nozzles—all of which can be easily identified by its flow rates and installed and changed quickly and easily. This versatile rotor also includes a radius adjustment feature that fine-tunes the spray to keep water off driveways, walks, and other non-landscaped surfaces.
Features:
Radius adjustment up to 25%
Part circle and full circle operation in one unit
Quick check arc/fast forward
Proven water lubricated gear drive
Heavy-duty pressure activated riser seal
Variable stator
Extra large filter screen
Click to enquire
Hunter PGP Ultra
Application:
Code : PGP04ULTRA
The PGP Ultra takes the foundation of the best-selling PGP Rotor and raises the bar with a variety of new features developed over three decades of research, customer feedback, and lab testing. Among the most notable improvements of the PGP Ultra is its non-strippable drive and automatic arc return. These two features work to allow the turret to be turned without causing damage, and return the turret to its original arc regardless of where it is turned. Other advanced features include 22 nozzle options with several radius choices, and a headed slot and set screw. The diversity of the PGP Ultra offers system installers an array of efficient options on any site.
Features:
Full-circle adjustment from 50 to 360 degrees
non-strippable drive mechanism with auto-arc return
headed and slotted nozzle retainer screw
improved dirty-water tolerance on the internal gear drive
3-Year warranty: The most reliable rotor on the market, now a longer warranty
Click to enquire