- Radio Irrigation ControllersOur Products
Gator Point to Point Radio System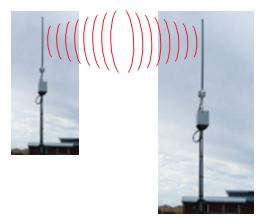 Application:
Gator Point to Point Radio Modules are independent modules that can be wirelessly linked to perform the switching of remote devices or over the air transmission of flow meter pulses.
Useful in many irrigation and water automation applications such as –
• Starting and stopping of primary / booster irrigation pumps.
• The filling of tanks from borehole pumps for stock watering or domestic consumption.
Features:
Point to point transmission range of up to 2 kilometres line of sight
Up to two inputs and two outputs per module allowing modules to be set as a receiver or as a transmitter
The units can be setup to operate in either a switching mode or pulsing mode depending on applications requirements
Click to enquire