- Web Based
Going to be away and still want to be able to control your irrigation, then use these controllers from your mobile device and tablets.
Hunter Pro C Face Panel Upgrade
Features:
Upgrade Pro-C modular and fixed station controllers manufactured since March 2014 to the Hydrawise™ platform
Wi-Fi enabled for fast and simple internet connection
Full-colour touch screen
Built-in milliamp sensor for detection of wiring problems
Click to enquire
Orbit B-Hyve Smart Wi-Fi Irrigation Controller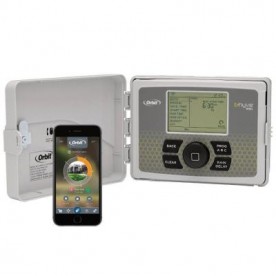 Features:
Set your stations watering requirements based on weather data from your area post code via your home router > NBN compatible
Conforms to all Water Corporations regulations
6 and 12 stations in outdoor / indoor configuration
Many other features > download the specification
Click to enquire
GSI Solar Kit 5 watt
Application:
Code : GSISOLAR
Used to power Galcon GSI DC controllers with an external battery system to enable live 24hr, 7 day communications with server (software must be enabled to become online).
Can be used on other systems where 12 volt DC power is required.
Features:
200mm x 200mm x 130mm weather proof above ground enclosure box
5 watt Solar panel with 3 metres of lead
Voltage input protection from solar panel to battery
Adjustable voltage output limiter (set at 7.3 volts for GSI)
Click to enquire