Category:
Decoder Irrigation Controllers
This is ideal for our clients who have long cable runs or who perhaps would like to extend their irrigation system in the future.
In addition to decoders, we also stock supporting products such as remote controls and surge guards.
Jacketed two core irrigation decoder cable suitable for direct burial, used on decoders that require a two path core to carry switching codes in all irrigation systems.
Read More
Read More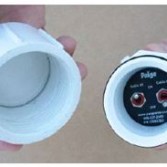 Code 270DCSD 270DCSD3 Although today's controller are able to perform diagnostic routines to help troubleshoot faults in the wiring circuits, sometimes the problem is just too complicated fro the average person. Oftentimes, maintenance personnel resort to trial and error method in an effort to isolate the problem.
Read More
Read More
Code : W-NOV-U-230-TW-TK-DEC-1 The Underhill novo 32 station, 2 wire control system is idela for retro fitting to an existing controller or added more valves by just adding/using 2 existing wires.
Read More
Read More
Code : 270SSG This Solenoid Surge Guard is designed to protect 24AC solenoid from lightning surges. Irrigation solenoids were found to fail at 10,000 volts or less and with the installation of the Paige Electric Solenoid Surge Guard allowed the same solenoids to survive a pulse of 20,000 volts.
Read More
Read More
Code : ROAM-XL Hunter long range remote valve control used in mantenance to operate solenoid valves connected to Hunter X-Core, Pro-C, PCC, I-Core and ACC controllers through Hunter Smartport connection.
Read More
Read More
Code : Icore Hunter Industries I-Corecontroller foruse in all Landsacpe watering systems. Loaded with innovative features like state of the art flow monitoring, quick system overview access, a factory-installed SmartPort®, six language capability, and a bold, graphic display. The plastic cabinet version is expandable from 6 to 30 stations, and the metal cabinet model can handle up to 42. Adding a DUAL two-wire module can even expand station capability to 48. Stainless steel and pedestal models are also available, providing a broad r
Read More
Read More
Code : Icore-Dual Hunter Industries I-CORE DUAL is Hunter's innovative two-wire plug-in module for the I-Core controller. Designed to bring the convenience and efficiency of two-wire technology.The DUAL system can operate up to 48 zones via a single pair of wires, at distances up to 2.3 km. The 48 zones can all be installed on a single path, or divided over multiple paths to take advantage of pipe trenches. Dual decoders come in one and two-station versions.
Read More
Read More