- Decoder
When you have long cable runs or want to extend an irrigation system at a later date, the decoder controller will fit this option.
Paige Decoder Switch 270DCSD/3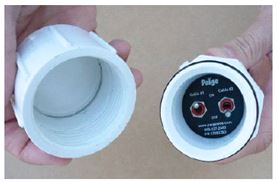 Features:
Water tight – installed in valve boxes for ease of access
O Ring Seal – Provides a waterproof capsule
ACME threads – minimizes binding of threads due to soil
Click to enquire
Novo 32 Station 2 Wire Decoder
Application:
Code : W-NOV-U-230-TW-TK-DEC-1
The Underhill novo 32 station, 2 wire control system is idela for retro fitting to an existing controller or added more valves by just adding/using 2 existing wires.
Features:
Easily adapts to any multi-wire irrigation controller
Bold backlit graphic display
Built-in electrical diagnostics/faults finding
LightTouch™ button control
Click to enquire
Paige Solenoid Surge Guard
Application:
Code : 270SSG
This Solenoid Surge Guard is designed to protect 24AC solenoid from lightning surges. Irrigation solenoids were found to fail at 10,000 volts or less and with the installation of the Paige Electric Solenoid Surge Guard allowed the same solenoids to survive a pulse of 20,000 volts.
Features:
The internal gas tube is ISO 9000 certified and conforms to the standards of UL 497B.
The life of lightning arresters is a function of how hard they are hit and the frequency of the strikes
Activates at 75 volts
Handles up to 10,000 amperes with a 8/20 micro-second pulse
Click to enquire