- AC 240 Volt
Used when you have a standard power supply.
Orbit B-Hyve Smart Wi-Fi Irrigation Controller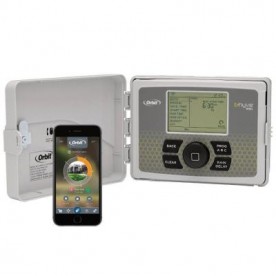 Features:
Set your stations watering requirements based on weather data from your area post code via your home router > NBN compatible
Conforms to all Water Corporations regulations
6 and 12 stations in outdoor / indoor configuration
Many other features > download the specification
Click to enquire
Hunter Hydrawise
Application:
Code : HC-601I-A-HC-1201I-A
Take control of your irrigation at any time from anywhere using the Hunter HC controller.
Expandable up to 36 stations with flow faults and coil issues, makes this controller stand out from the others.
Features:
Manage your customer controllers from a smart device, home or office
Smart water based on local weather conditions with Predictive Watering™ adjustments
Use app as remote control for increased efficiency
Fixed schedule with predictive watering based on forecast temperature, rainfall, humidity and wind speed
Click to enquire
Novo 32 Station 2 Wire Decoder
Application:
Code : W-NOV-U-230-TW-TK-DEC-1
The Underhill novo 32 station, 2 wire control system is idela for retro fitting to an existing controller or added more valves by just adding/using 2 existing wires.
Features:
Easily adapts to any multi-wire irrigation controller
Bold backlit graphic display
Built-in electrical diagnostics/faults finding
LightTouch™ button control
Click to enquire