- Soil
Irrometer Multiple Hydrozone System
Application:
Code : MHS
Application:
The Multiple Hydrozone System (MHS) allows independent moisture control of valve groups when all valves share a common ground. The MHS interfaces with any 24 VAC irrigation controller for soil moisture automation.
Features:
Easy to Install – new or retrofit
Individual area moisture control – reads, reports, adjusts
Multiple manual operation overrides
No maintenance
Related
Products
Irrometer Watermark Digital Meter (WDM)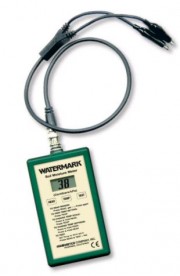 Features:
Simple to use.
Large LCD display is easy to use and has self test function
Quick release cable assembly is field changeable
Adjustable for soil temperature variations
Click to enquire
IR Irrometer Tensiometer 0-100cb
Application:
Code : IR
The Irrometer, first introduced in 1952, has continuously been the leader with every exclusive feature symbolic to Irrometer allowing the instrument to measure soil moisture tension in all field crops, vines and trees planted in medium to heavy soils.
Features:
Hermetically sealed gauge, with moulded in diaphragm which keeps out dirt and moisture, also compensates for variations in temperature and barometric pressure.
Air free gauge, water seal prevents air entering gauge, gauge and chamber remain full regardless of water level in instrument.
Gauge readings 10 through 100 centibar readings in 10 centibar increments.
Body constructed of tough durable plastic impervious to attack by chemicals or electrolysis.
Large cap for easy operation and better control assists with quick servicing
Click to enquire
WS1 Watermark Automatic Soil Moisture Sensor for Irrigation Controllers
Application:
Code : WS1
The WaterSwitch is a very affordable method of making a conventional irrigation controller "SMART".
The system will prevent irrigation cycles when the soil moisture is wetter than the adjustable set point.
Scheduling adjustments can be made at the controller for other irrigation zones to accommodate their individual watering needs. Four set points allow for variations in plant and soil type.
Features:
Irrigation control based on soil moisture using WS-200 sensor
Adjustable moisture levels to allow for a broad range of plant/turf requirements
Solid state electronics - weather proof seal
Fits to existing irrigation controllers that have sensor connection
No maintenance required
Click to enquire