- DiscOur Products
Tavlit ADIR TDS Filter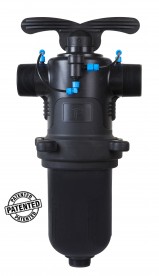 Application:
TAVLIT offers a unique and innovative semi-automatic disc filter that enables the user the advantages of disc filtration without the need of opening the filter and manually cleaning the discs and without the expensive control systems of an automatic disc filter. The cleaning process is simple and quick. The user only has to turn the handle a ¼ of a turn for 15-30 seconds, depends on water quality the discs are clean, the user turns the handle back and the filter resumes its filtering mode.
Features:
Available sizes: 50mm 80mm
Max working pressure: 10 bar
Min. flushing pressure: 2 bar.
Click to enquire