Category:
Sprinkler Systems
Lead Supplier of sprinkler systems, timers and parts Australia
Whatever your sprinkler system requirements, HR Products can help. We stock a range of well-known and reliable brands including Hunter, Orbit, Vyrsa, Antelco, Komet, Ein Dor, Irripod, Senninger, and our very own high-quality brand.
Have a look at the types of systems that we have:
Pop-Up Spinklers
Our Hunter sprinkler heads are the perfect addition to any residential garden or small commercial property.
These common systems come in stationary spray and rotating head options, both of which are attached with a nozzle. This can be adjusted from a full arc, a half circle, or a quarter circle, depending on the landscape of the area that they will be fitted in.
These lawn sprinklers are buried in the ground, making them functional without taking away from the existing aesthetic of the landscape.
If you've been searching for the best pop up sprinklers for lawns, then look no further than HR Products.
Impact rotors
Larger spaces require something a bit different. Our impact rotor systems can provide single or multiple streams of water in a 40 to a 360-degree pattern. This is what makes them ideal for distributing water across large areas.
Our brass sprinklers are both durable and contemporary, while our plastic impact sprinklers are a great cost-effective option.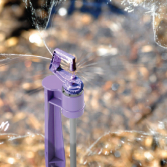 The ReuZit™ range of products are specifically designed for domestic and small commercial Aerobic Treatment Systems (ATS). Using the Industry Standard purple (lilac) colour on sprinkler and risers to signify use of recycled water on your property and a large droplet size to combat wind drift.
Read More
Read More