- WiFi
Only have access to WiFi at the site, then you can save on the use of SIM and data charges and use these controllers to control your irrigation system.
Hunter Pro C Face Panel Upgrade
Features:
Upgrade Pro-C modular and fixed station controllers manufactured since March 2014 to the Hydrawise™ platform
Wi-Fi enabled for fast and simple internet connection
Full-colour touch screen
Built-in milliamp sensor for detection of wiring problems
Click to enquire
Orbit B-Hyve Smart Wi-Fi Irrigation Controller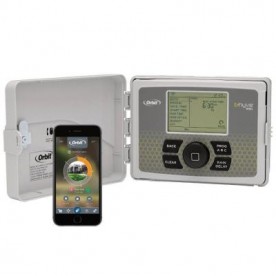 Features:
Set your stations watering requirements based on weather data from your area post code via your home router > NBN compatible
Conforms to all Water Corporations regulations
6 and 12 stations in outdoor / indoor configuration
Many other features > download the specification
Click to enquire
Hunter Hydrawise
Application:
Code : HC-601I-A-HC-1201I-A
Take control of your irrigation at any time from anywhere using the Hunter HC controller.
Expandable up to 36 stations with flow faults and coil issues, makes this controller stand out from the others.
Features:
Manage your customer controllers from a smart device, home or office
Smart water based on local weather conditions with Predictive Watering™ adjustments
Use app as remote control for increased efficiency
Fixed schedule with predictive watering based on forecast temperature, rainfall, humidity and wind speed
Click to enquire