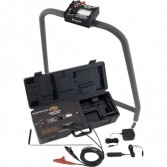 Armada Technologies GFL3000 Ground Fault Locator is a specialized tool for contractors and maintenance personnel working with underground cables. Commonly known as A-Frames, the GFL3000 Ground Fault Locator is essential for anyone looking for the exact location of damage to direct buried cables. Video Link https://www.youtube.com/watch?v=z6-V_mlJpWU
Read More
Read More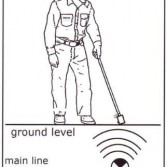 The Solenoid Seeker helps you find operating solenoid valves in garden beds, mulch and turf areas, whether they are directly buried or in a valve box, the SS2002 will find them. A must for all irrigation maintenance contractors; save time and money by finding your solenoids fast.
Read More
Read More
Code : PRO93 Armada Technologies PRO93 AC Leakage Clamp Multimeter is used by a technician to determine the general location of a ground voltage leak in a 2-Wire system. The Pro93 model measures ACmilliamp current leakage down to 50 micro amps simply by using the integrated clamp over one conductor of the 2-wire cable.
Read More
Read More
Code : PRO800-Hi-Power-wire-/-valve-locator The Pro800 Cable Locator is a new low cost locator for contractors and maintenance personnel. Incorporating a transmitter and sensitive receiver, the Pro800 tracks many types of cabling including CATV, electrical, telephone and lighting. The Pro800 transmits an easy to follow beep signal that is tracked by the receiver. Simply connect the transmitter to the ground stake and the wire to be tracked and turn on, following the beeps with the receiver using either the visual meter or external s
Read More
Read More
Code : PRO871C-Cable-Locator Locates buried wires and cables Easy to follow beep signal that is tracked by hand held receiver High and low frequency for either null or peak tracking Inductive clamp allows nonmetallic connection to wires and cables inducing signal onto the conductor and providing a tracing signal Dual frequency capability (Hi/Lo) Audible and visual reception indicators Head phones and a speaker Low battery power indicator Membrane receiver control panel Null or peak reception options with volume control Moulded case for
Read More
Read More
Code : PRO700-Wire-&-Valve-Locator The Pro700 TechTracker allows the user to locate wire and solenoid valves features not seen on other valve locators are extra long metal wand for easy tracking, the option of using an external speaker instead of a headset when listening to signal, and D batteries for power.
Read More
Read More
Code : PRO48K-Irrigation-Diagnostic-Kit The Pro48K TechTool Kit is a complete portable, low cost, battery operated irrigation system diagnostic kit. The Pro48K combines several testers into one, creating a powerful tool that any technician can afford. The Pro48 TechTool incorporates a solenoid activator to hold valves open; a chatterer to locate lost valves; a continuity checker to identify cut or shorted wires or solenoids; and a 24 VAC detector to ensure proper clock power output. Together with the Pro210 Probe, the Pro48 can transmi
Read More
Read More