- Cable Locators
Application:
Code : PRO700-Wire-&-Valve-Locator
The Pro700 TechTracker allows the user to locate wire and solenoid valves features not seen on other valve locators are extra long metal wand for easy tracking, the option of using an external speaker instead of a headset when listening to signal, and D batteries for power.
Features:
Receiver has in built speaker or headset connection
Locates wire path, valves, breaks and large nicks
Pistol style receiver is extended for ease of locating
Related
Products
Armada Ground Fault Locator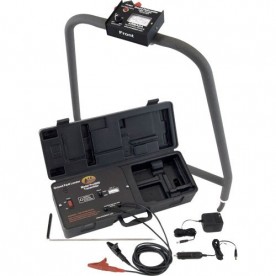 Features:
Locates buried ground faults on cable
Dual Hi / Lo power capability
Audible "ON" beeper
Click to enquire
PRO93 Multimeter
Application:
Code : PRO93
Armada Technologies PRO93 AC Leakage Clamp Multimeter is used by a technician to determine the general location of a ground voltage leak in a 2-Wire system. The Pro93 model measures ACmilliamp current leakage down to 50 micro amps simply by using the integrated clamp over one conductor of the 2-wire cable.
Features:
Measures from 50 micro-amps
Measures AC leakage in milliamps
Measures AC, DC, Ohms and Hz
Auto ranging
Click to enquire
3M Marker Balls
Application:
Code : 1401-XR
The 3M™ Ball Marker makes the job of precisely locating underground facilities easier. Other buried markers can be disturbed by backfill dirt or installed improperly so they don't stay positioned correctly. The 3M ball marker's unique self-levelling design ensures the marker is always in an accurate, horizontal position regardless of how it is placed into the ground.
The addition of the new 3M-iD markers provides additional functionality by enabling facility data to be stored in the marker to ensure positive identification of facilities. The pre-programmed unique serial number integrates with back office mapping and GIS systems when used for mapping new and legacy assets and points of special interest for construction and maintenance applications.
The ball marker is buried over key facilities during construction or maintenance. Later, the marker is easily and accurately located using a 3M™ Dynatel™ Locator. The locator transmits a signal to the buried marker. The marker returns the signal to the locator, indicating the marker's exact position. The compact electronic locator gives both a visual reading and an audible tone.
Click to enquire