- Cable Locators
Broken Wire Solution
Application:
Code : HRBWS
Operate two solenoid valves independently using one wire from the controller such as when a wire is broken or non existent. Power rating 24vac @ 50Hz 1 amp, 4 wire connection, operates two solenoids independently, extend or split zones, allowed in direct buriel
Features:
Max rating 24 VAC @ 50Hz 1 Amp
Easy 4 wire connection
Operates two solenoids independently
Related
Products
Paige Decoder Switch 270DCSD/3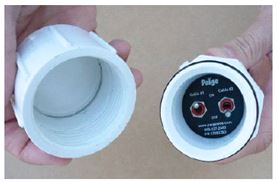 Features:
Water tight – installed in valve boxes for ease of access
O Ring Seal – Provides a waterproof capsule
ACME threads – minimizes binding of threads due to soil
Click to enquire
Application:
Code : PRO800-Hi-Power-wire-/-valve-locator
The Pro800 Cable Locator is a new low cost locator for contractors and maintenance personnel. Incorporating a transmitter and sensitive receiver, the Pro800 tracks many types of cabling including CATV, electrical, telephone and lighting.
The Pro800 transmits an easy to follow beep signal that is tracked by the receiver. Simply connect the transmitter to the ground stake and the wire to be tracked and turn on, following the beeps with the receiver using either the visual meter or external speaker.
Included in the unit is a wireless broadcast mode that means inducing the tracing signal through the ground, allowing the user to trace any conductor in the ground within a 7-9 metre radius.
Features:
20% More Power
Wireless Broadcast Cable Connection
Triple AC Buzz/Noise Rejection
Null or Peak Reception Modes
Click to enquire
Application:
Code : PRO48K-Irrigation-Diagnostic-Kit
The Pro48K TechTool Kit is a complete portable, low cost, battery operated irrigation system diagnostic kit. The Pro48K combines several testers into one, creating a powerful tool that any technician can afford. The Pro48 TechTool incorporates a solenoid activator to hold valves open; a chatterer to locate lost valves; a continuity checker to identify cut or shorted wires or solenoids; and a 24 VAC detector to ensure proper clock power output. Together with the Pro210 Probe, the Pro48 can transmit a tracing tone and identify wires using traditional tone/probe methods. Operation is simple as LEDs indicate tests and conditions.
Features:
Activate solenoids
Verify 24VAC power
Detect short/open wires
Click to enquire