Category:
- Valve Box
Used to protect your irrigation valves and make it easy to get to should you need to service valves.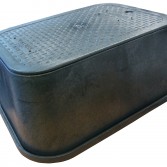 Here you will find all the measurements of HR manufactured  valve boxes along with imported Dura, NDS and AEP.
Read More
Read More
Code : HR1419-12-&-HR0910VB HR Products commercial valve boxes, rectangular and round used in direct buriel to house solenoid valves, all isolation valves and submersible pump covers for irrigation systems.
Read More
Read More
Code : HR-Valve-Box-Test View independant test results onthreecommercial valve box makes carried out by Structural Materials and Assemblies Group of the University of South Australia, test was carried out to prove maximum load sustained, deflection at max load and average load rate.
Read More
Read More
Code : HR-Valve-Box Valve boxes required as covers for solenoid valves and other items that you wish to cover finishing at ground level.
Read More
Read More
Code : HR1419-XXWM HR Products water meter valve box designed for use as a domestic water meter cover with hinged hatch for easy water meter reading. Manufactured from high performance polyethylene material.
Read More
Read More
Code : HR1419-7VBOL Can house up to 6 x 25mm manifolded solenoids (H pattern configuration) Can house isolation valve and master solenoid valve (if not used for manifolding) Can house single 40mm, 50mm & 80mm solenoids Made from polyproylene material Strong load strength , Supplied with overlay lid Easy storage - insert stacking, Easy handling Private label lids for company logo and type of use identification Lid supplied with ribs for extra strength Lid meets Australian anti skid ruling Lid is flush with the outside of body and cl
Read More
Read More
Code : HR1419-12HYDASSY HR Products Class B hydrant cover designed for housing hydrants and large valves below ground in road verges. Constructed from high performance glass filled polypropylene material. Complies to Australian Standard AS3996-1992 Metal Access covers, road grates and frames.
Read More
Read More