- Trough
MAXFLOW Hansen Trough Valve
Application:
Code : MAXFLOW
Hansen Max Flo high performance tank / trough diaphragm valve, designed to delivery high volumes of water fast through unrestricted full flow. The Max Flo unique variable open and close action prevents valve bounce and water hammer.
Features:
SELF FLUSHING PILOT HOLE
TOP ENTRY INSTALLATIONS
MALE ADAPTORS
ANTI-SYPHON HOLES
SLOW CLOSE ACTION
Related
Products
Hansen Rapid-Flo Rain Relief Valve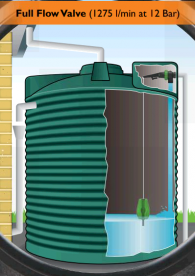 Features:
Prevents dry tank syndrome
Supplement your rain water tank from an alternative water supply, once level reaches pre-set level
Dual level weighted float determines the tanks fill depth of either 50mm or 100mm
Click to enquire
Hansen Mini Fast Flo Valve
Application:
Features:
Mini compact design suited to confined spaces ie small feeder bowls, troughs & header tanks
Designed with a patent pending "Ezi Clamp" arm to make water level adjustment a breeze
Reliable in High/Low pressures - 0 to 12 Bar
Durable urethane seat, which is reversible
Cost effective trough/tank valve - 29 PSI - 9 l/min
Click to enquire
Tank Level Guage
Application:
Code : MT-PROFIL
Application:
Mechanical float operated water level gauge is suitable for installation on potable and rainwater tanks. The gauge has a reversible face plate. One side can be used for tanks to 1.5m in height, the
other side for water tanks to 2.5m in height. The gauge will give an accurate reading of the current water level in the tank.
Features:
Suitable up to 2.5 metres deep
Easy mounting on top of tank using optional back nut
No batteries or wiring are required
Easy to read 90mm dial face
Dial face registers zero when tank is empty
Click to enquire