- Quick CouplingOur Products
VYRSA – Brass Quick Coupling Valve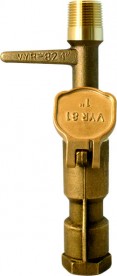 Application:
Irrigation outlet designed for permanent irrigation systems in private gardens, municipal parks and sports facilities.
Instant opening with the insertion and turning of a bayonet key. When the key is removed, the valve automatically closes.
Body made of brass, with stainless steel springs and shaft.
Features:
Available in both 20mm and 25mm MI
Solid brass construction
Maximum flow of up to 260 lpm.
Click to enquire