- Quick CouplingOur Products
VYRSA – Brass Quick Coupling Valve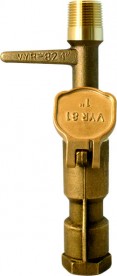 Application:
Irrigation outlet designed for permanent irrigation systems in private gardens, municipal parks and sports facilities.
Instant opening with the insertion and turning of a bayonet key. When the key is removed, the valve automatically closes.
Body made of brass, with stainless steel springs and shaft.
Features:
Available in both 20mm and 25mm MI
Solid brass construction
Maximum flow of up to 260 lpm.
Click to enquire
Related
Products
VYR1610 15mm Plastic Impact Sprinkler
Hunter PGJ
Application:
Code : PGJ
Hunters PGJ 15mm gear drive sprinkler suited for use around the home and commercial watering systems, complete with 40 to 360 degree arc setting, 8 nozzle choices, factory installed rubber cover, through the top arc adjustment, quick check arc mechanism, water lubricated gears, headed and slotted set screw.
Options – Reclaimed Water ID rubber cover, Drain Check Valve for upto 2m of elevation
Features:
Radius adjustment screw
Protective rubber cover
40°– 360° adjustable arc
Water-lubricated gear drive
Variable stator
Extra large filter screen
Optional factory-installed drain check valve
Specifications:
| | |
| --- | --- |
| Discharge rate: | 0.15 to 1.2 m3 /hr; 2.4 to 20.1 l/min |
| Radius | 4.6 to 11.3 m |
| Recommended pressure range | 2.1 to 3.4 bars; 206 to 344 kPa (30 to 50 PSI) |
| Operating pressure range | 1.4 to 6.9 bars; 137 to 689 kPa (20 to 100 PSI) |
| Precipitation rates: | approximately 16 mm per hour at 2.8 bars; 275 kPa (40 PSI) for spacings from 4.6 to 11.3 m |
| Nozzle trajectory: | approximately 14˚ |
Click to enquire
Hunter I25 Commercial Rotor
Application:
Code : Hunter-I25
The I-25 gets the job done with power, efficiency, and commercial-grade reliability. With a robust watering radius of 11.9 to 21.6 m, this rotor can be used in a variety of applications and environments. Its compact, highly durable design comes with an optional stainless steel riser for tough-as-nails strength. With a 5-year warranty, the I-25 also has options for reclaimed water ID and high-speed. A standard check valve is built in, and a wide selection of high performance nozzles are available. Efficient, tough, and built-to-last, Hunter's I-25 rotors work hard day in and day out so you don't have to.
Features:
Easy arc adjustment right from the top
Proven and tested water-lubricated gear drive system
Reclaimed option available
The perfect rotor for commercial and recreational sites
Click to enquire