- CheckOur Products
Sanking 3040 – Series PVC Check Valve – SWJ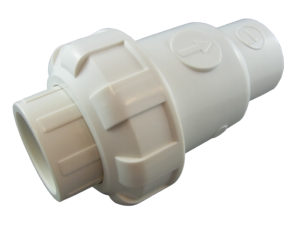 Application:
Features:
Full bore
UV stabilised
Solvent weld connection
Designed to fit pressure pipe only
Specifications:
Temperature range 0 to 40 degree Celsius
Click to enquire
Related
Products
Check Valve Hansen
Application:
Code : CVXX
Hansen check valves used in water pipe networks as a non return valves to stop water flowing backwards through the water pipe network. Fast response when opening and closing, valve will operate at any angle. Available in 25, 32, 40, 50 and 63 mm sizes.
Features:
EASY IN-LINE SERVICING
WORKS AT ANY ANGLE OR POSITION
EXCEPTIONAL FLOW
INTERCHANGABLE PARTS
FAST AND EASY TO INSTALL
Click to enquire
Hunter MP Rotator
Application:
Code : MPXXX
The revolutionary MP Rotator features a unique, multi-trajectory rotating stream delivery system that achieves water-conserving results. Rather than simply "spray" water onto landscapes, MP Rotators deliver multiple streams of water at a steady rate. This slower application rate allows water to gently soak into the soil and achieves an even distribution throughout the area being irrigated. This increased efficiency results in 30% less water use when compared to traditional sprays and significantly reduces wasteful runoff. The MP Rotator can be installed onto any conventional spray head body or shrub adapter, transforming them into high uniformity, low precipitation rate sprinklers with matched precipitation at any arc and any radius.
The MP Rotators are a great choice for new systems, as they provide immense range flexibility (from 2.5 m to 10.7 m radius), decrease material costs, and provide better system efficiency. MPs are also perfect for revitalizing older systems—a retrofit can solve both low pressure and poor coverage problems.
Features:
High Uniformity
Low Precipitation Rate
Flexible Design Tool
Automatic Matched Precipitation
Proven Durability & Reliability
Quick, Easy, Arc and Radius Adjustments
Click to enquire
Hunter PGP
Application:
Code : PGPADJ
The PGP® is Hunter's original product—the item that put the company on the map in 1981. Its exceptional design and impressive performance placed the rotor a cut above back then, and continuous improvements and enhancements have allowed it to remain the number one selling rotor in the world ever since. With the ability to deliver even water distribution from precision-engineered nozzles, this sprinkler is unequaled in reliability, durability, versatility, and value. With its endless built-in features and Hunter's years of experience in gear-drive technology, it's no wonder the PGP remains the professional's choice year after year.
Features:
Integral rubber cover with membrane covered sockets
Through-the-top adjustment
Quick check arc/fast forward
Complete set of interchangeable nozzles
Factory installed nozzles available
Radius adjustment of up to 25%
Reversing full-circle and part-circle operation in one unit
Proven, long-life water-lubricated gear drive
Specifications:
| | |
| --- | --- |
| Discharge rate: | 0.10 to 3.22 m3 /hr; 1.7 to 53.7 l/min |
| Radius | 6.4 to 15.8 m |
Click to enquire