- Check
Febco Dual Check Valve
Application:
Code : 810-FF-25mm
Dual checks provide protection to the potable water supply from contamination in low hazard applications like meter connections on domestic properties.
Features:
Body: Bronze
Check Springs: Stainless steel
Minimum Working Pressure 220kPa
Maximum Working Pressure 1200kPa
Compact and lightweight
Related
Products
Sanking 3040 – Series PVC Check Valve – SWJ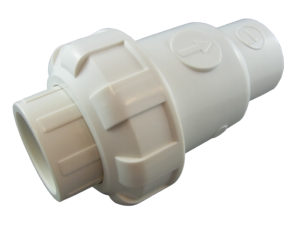 Features:
Full bore
UV stabilised
Solvent weld connection
Designed to fit pressure pipe only
Specifications:
Temperature range 0 to 40 degree Celsius
Click to enquire
Wafer Check Valve
Application:
Code : WCV
Compact non-return wafer-style design and round un-obstructed port to stop flow reversal in irrigation systems pipe networks, water flow is allowed in only one direction.
Wafer check valve works automatically and has no external control.
Features:
80mm upto 250mm sizing
Operating pressure to PN16 (1600 kPa)
Checks open at 200 kPa all sizes
Click to enquire
Check Valve Hansen
Application:
Code : CVXX
Hansen check valves used in water pipe networks as a non return valves to stop water flowing backwards through the water pipe network. Fast response when opening and closing, valve will operate at any angle. Available in 25, 32, 40, 50 and 63 mm sizes.
Features:
EASY IN-LINE SERVICING
WORKS AT ANY ANGLE OR POSITION
EXCEPTIONAL FLOW
INTERCHANGABLE PARTS
FAST AND EASY TO INSTALL
Click to enquire