- Check
Febco Dual Check Valve
Application:
Code : 810-FF-25mm
Dual checks provide protection to the potable water supply from contamination in low hazard applications like meter connections on domestic properties.
Features:
Body: Bronze
Check Springs: Stainless steel
Minimum Working Pressure 220kPa
Maximum Working Pressure 1200kPa
Compact and lightweight
Related
Products
Sanking 3040 – Series PVC Check Valve – SWJ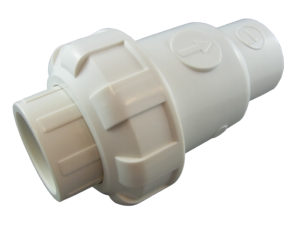 Features:
Full bore
UV stabilised
Solvent weld connection
Designed to fit pressure pipe only
Specifications:
Temperature range 0 to 40 degree Celsius
Click to enquire
Wafer Check Valve
Application:
Code : WCV
Compact non-return wafer-style design and round un-obstructed port to stop flow reversal in irrigation systems pipe networks, water flow is allowed in only one direction.
Wafer check valve works automatically and has no external control.
Features:
80mm upto 250mm sizing
Operating pressure to PN16 (1600 kPa)
Checks open at 200 kPa all sizes
Click to enquire
Anka Check Valve
Application:
Code : ACVX
Spring loaded non return valves installed in line and allow fl uid to fl ow in one direction only.
Designed for use in pumping,marine,industry and irrigation systems
Features:
Can be installed at any angle
Non corrosive, using high quality materials
Check valves can be unassembled allowing servicing
Click to enquire