- Australian MadeOur ProductsValve Box
Australian Made – HR Products – Complete Range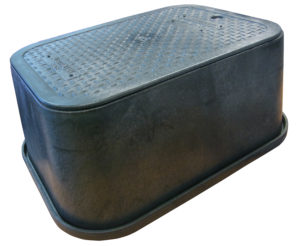 Related
Products
Valve Box Dimension Details
HR Products Inground Water Meter Valve Box
Application:
Code : HR1419-XXWM
HR Products water meter valve box designed for use as a domestic water meter cover with hinged hatch for easy water meter reading.
Manufactured from high performance polyethylene material.
Features:
Easy access hatch for fast meter reading
Made from polyethylene material
Strong load strength, supplied with inlay lid
Easy storage - insert stacking, Easy handling
Lid is fitted to body with stainless steel nut & bolt
Click to enquire
Hunter PGP
Application:
Code : PGPADJ
The PGP® is Hunter's original product—the item that put the company on the map in 1981. Its exceptional design and impressive performance placed the rotor a cut above back then, and continuous improvements and enhancements have allowed it to remain the number one selling rotor in the world ever since. With the ability to deliver even water distribution from precision-engineered nozzles, this sprinkler is unequaled in reliability, durability, versatility, and value. With its endless built-in features and Hunter's years of experience in gear-drive technology, it's no wonder the PGP remains the professional's choice year after year.
Features:
Integral rubber cover with membrane covered sockets
Through-the-top adjustment
Quick check arc/fast forward
Complete set of interchangeable nozzles
Factory installed nozzles available
Radius adjustment of up to 25%
Reversing full-circle and part-circle operation in one unit
Proven, long-life water-lubricated gear drive
Specifications:
| | |
| --- | --- |
| Discharge rate: | 0.10 to 3.22 m3 /hr; 1.7 to 53.7 l/min |
| Radius | 6.4 to 15.8 m |
Click to enquire