- Cable Locators- Solenoid LocatorCable
Armada Ground Fault Locator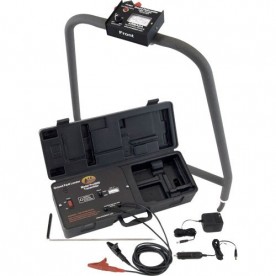 Application:
Armada Technologies GFL3000 Ground Fault Locator is a specialized tool for contractors and maintenance personnel working with underground cables. Commonly known as A-Frames, the GFL3000 Ground Fault Locator is essential for anyone looking for the exact location of damage to direct buried cables.
Video Link https://www.youtube.com/watch?v=z6-V_mlJpWU
Features:
Locates buried ground faults on cable
Dual Hi / Lo power capability
Audible "ON" beeper
Related
Products
Solenoid Valve Locator SS2002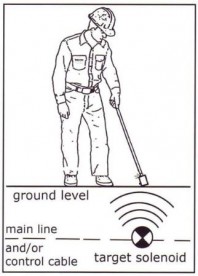 Features:
Simple to use
One person operation
Low Cost
Locate coils up to 500mm in depth
Compact design
One year warranty
Click to enquire
Application:
Code : PRO48K-Irrigation-Diagnostic-Kit
The Pro48K TechTool Kit is a complete portable, low cost, battery operated irrigation system diagnostic kit. The Pro48K combines several testers into one, creating a powerful tool that any technician can afford. The Pro48 TechTool incorporates a solenoid activator to hold valves open; a chatterer to locate lost valves; a continuity checker to identify cut or shorted wires or solenoids; and a 24 VAC detector to ensure proper clock power output. Together with the Pro210 Probe, the Pro48 can transmit a tracing tone and identify wires using traditional tone/probe methods. Operation is simple as LEDs indicate tests and conditions.
Features:
Activate solenoids
Verify 24VAC power
Detect short/open wires
Click to enquire
3M Marker Balls
Application:
Code : 1401-XR
The 3M™ Ball Marker makes the job of precisely locating underground facilities easier. Other buried markers can be disturbed by backfill dirt or installed improperly so they don't stay positioned correctly. The 3M ball marker's unique self-levelling design ensures the marker is always in an accurate, horizontal position regardless of how it is placed into the ground.
The addition of the new 3M-iD markers provides additional functionality by enabling facility data to be stored in the marker to ensure positive identification of facilities. The pre-programmed unique serial number integrates with back office mapping and GIS systems when used for mapping new and legacy assets and points of special interest for construction and maintenance applications.
The ball marker is buried over key facilities during construction or maintenance. Later, the marker is easily and accurately located using a 3M™ Dynatel™ Locator. The locator transmits a signal to the buried marker. The marker returns the signal to the locator, indicating the marker's exact position. The compact electronic locator gives both a visual reading and an audible tone.
Click to enquire