- Cable Locators- Solenoid LocatorCableOur Products
Armada Ground Fault Locator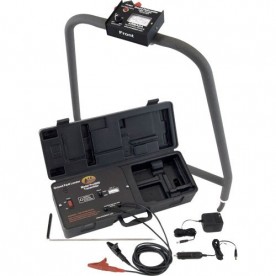 Application:
Armada Technologies GFL3000 Ground Fault Locator is a specialized tool for contractors and maintenance personnel working with underground cables. Commonly known as A-Frames, the GFL3000 Ground Fault Locator is essential for anyone looking for the exact location of damage to direct buried cables.
Video Link https://www.youtube.com/watch?v=z6-V_mlJpWU
Features:
Locates buried ground faults on cable
Dual Hi / Lo power capability
Audible "ON" beeper
Click to enquire
Related
Products
3M Electronic Ball Marker Locator
Application:
Code : 1420EMS-LOCATOR
3M™ Dynatel™ Electronic Marker System (EMS) Marker Locators 1420E-iD are microprocessor-based systems that quickly and efficiently locate underground markers years after construction or maintenance.
Designed to be accurate, fast and integrated, the 1420E-iD EMS marker locators allow you to accurately and easily:
• Locate, read and write to 3M iD markers
• Pinpoint the depth and location of all existing models installed underground passive EMS markers
• Conduct direct depth reading of markers
• Locate two different marker frequencies simultaneously
Advanced features detect information about underground utilities
A feature exclusive to the 1420E-iD locators is the ability to read, write and lock programmed information into the 3M™ Electronic Marker System iD Markers. Information such as a pre-programmed unique identification number, facility data, owner information, application type, placement date and other details from up to 100 markers can all be stored with date/time stamp and transmitted back to your PC for enhanced resource management.
The 1420E-iD locators are unaffected by metal conduit or pipe, metallic conductors, fences, AC power or electronic markers for other utilities. Multiple markers located at close proximity can be read individually using this system.
A simple, easy-to-use system
Lightweight and compact, the locators are rugged, ergonomic and require very little operator training. A large bright backlit digital liquid crystal display screen and soft-key operation make them easy to understand and use for more precise locates. A "memory" feature remembers operator set-up from the previous use. A standard RS232/USB communications port allows interface to an external computer for uploading/downloading of data, unit configuration and remote software upgrades. The system is estimated to operate for more than 25 hours on eight AA alkaline batteries.
Features:
Designed to be accurate, fast and integrated
Lightweight and compact
A "memory" feature remembers operator set-up from the previous use
Click to enquire
PRO48K
Application:
Code : PRO48K-Irrigation-Diagnostic-Kit
The Pro48K TechTool Kit is a complete portable, low cost, battery operated irrigation system diagnostic kit. The Pro48K combines several testers into one, creating a powerful tool that any technician can afford. The Pro48 TechTool incorporates a solenoid activator to hold valves open; a chatterer to locate lost valves; a continuity checker to identify cut or shorted wires or solenoids; and a 24 VAC detector to ensure proper clock power output. Together with the Pro210 Probe, the Pro48 can transmit a tracing tone and identify wires using traditional tone/probe methods. Operation is simple as LEDs indicate tests and conditions.
Features:
Activate solenoids
Verify 24VAC power
Detect short/open wires
Click to enquire
PLIFIX Location Markers
Application:
Code : PF-XXX
PLiFix is a synthetic grass implant used for marking and locating various underground assets as well as marking lines on sports fields. Once installed in the ground, PLiFix helps to indicate buried objects (tanks, sprinklers, cables, sensors, etc), show ground hazards and mark out building sites, camp sites etc.For sports fields, PLifix provides a very practical and cost effective way to mark positions on the playing surface and to mark locations for line marking with PLifix clearly visible in the grass.
PLifix can be either left in the ground permanently, or moved as and when required.
Features:
Fibres - Treated synthetic anti-UV, resistant against mowing and ripping out
Harpoon Style Screw - Rotproof polypropylene stained with black carbon to resist micro organisms
Strain relief - 30kg pull to help remain in place
4 colours Red, Yellow, Blue, White
Click to enquire