- Dripper
Antelco Press Comp Shrubbler
Application:
Code : Antelco-Shrubbler-PC
Gentle umbrella pattern. Flow and coverage can be altered by rotating the cap.
Applications
Street trees and shrubs. Flow rates allow for short watering times.
Features:
Patented design
Pressure Compensating maintains diameter of throw over a wide range of inlet pressures
Take-apart for easy inspection and cleaning
Coloured cap for easy identification
UV stabilised materials for long life
Related
Products
Deep Drip Watering Stake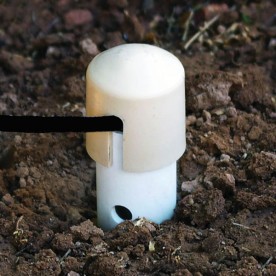 Features:
Reduced surface water run off / erosion
Reduced surface evaporation
Reach "feeder-roots" faster for more effective watering
Click to enquire
Landscape Dripline 30cm x 2 lph PC
Application:
Code : HRDPC
Suitable for Lawns, shrubs, trees and fl ower beds. Ideal for slopes and long narrow applications, on surface, under mulch or
subsurface installations.
Features:
Self regulating round dripper
Uniform flow rate along drip line length
Suitable for use with standard 13mm LD fi ttings
Size 12.5mm ID and 14.5mm OD
Brown UV protected tubing is durable under sunny conditions and blends with ground or mulch colours
Dripline has dual outlet ports on each dripper to ensure that only one outlet has contact with the ground, eliminating a chance of back-siphoning debris into the tubing
Round dripper with wide water passages which provides high resistance to blockages
Self cleaning, water fl ow in dripper labyrinth fl ushes out sediments continuously
Click to enquire
Ein Dor 841PC Regulated Mini Sprinkler
Application:
Code : 841PCXXX
EIN DOR FLOW REGULATED MINI SPRINKLERS
For the past 40 years Ein-Dor products have been in the forefront of technology and innovation when it comes to micro sprinkler irrigation. The new flow regulated 800 series sprinklers are known for their excellent performance, accuracy and uniform water distribution and can be supplied to a wide range of flow rates and wetting diameters designed for use in nurseries, orchards, citrus groves, banana plantations, frost protection and cooling system
Features:
Wide regulated flow range 20Lph - 105Lph
Available flow rates 20, 35, 50, 70, 90 and 105lph
Flow regulated operating pressure 150kPa - 400kPa
Specifications:
| | |
| --- | --- |
| Regulated flow range | 20Lph - 105Lph |
| Available flow rates | 20, 35, 50, 70, 90 and 105lph |
| Flow regulated operating pressure | 150kPa - 400kPa |
| Wetting diameter | 5m - 7m |
Click to enquire