Our ProductsPrice Book
2018 – 2019 Price Book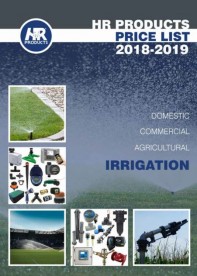 Application:
Click to enquire
Related
Products
Hunter PGJ
Application:
Code : PGJ
Hunters PGJ 15mm gear drive sprinkler suited for use around the home and commercial watering systems, complete with 40 to 360 degree arc setting, 8 nozzle choices, factory installed rubber cover, through the top arc adjustment, quick check arc mechanism, water lubricated gears, headed and slotted set screw.
Options – Reclaimed Water ID rubber cover, Drain Check Valve for upto 2m of elevation
Features:
Radius adjustment screw
Protective rubber cover
40°– 360° adjustable arc
Water-lubricated gear drive
Variable stator
Extra large filter screen
Optional factory-installed drain check valve
Specifications:
| | |
| --- | --- |
| Discharge rate: | 0.15 to 1.2 m3 /hr; 2.4 to 20.1 l/min |
| Radius | 4.6 to 11.3 m |
| Recommended pressure range | 2.1 to 3.4 bars; 206 to 344 kPa (30 to 50 PSI) |
| Operating pressure range | 1.4 to 6.9 bars; 137 to 689 kPa (20 to 100 PSI) |
| Precipitation rates: | approximately 16 mm per hour at 2.8 bars; 275 kPa (40 PSI) for spacings from 4.6 to 11.3 m |
| Nozzle trajectory: | approximately 14˚ |
Click to enquire
Hunter PGP Ultra
Application:
Code : PGP04ULTRA
The PGP Ultra takes the foundation of the best-selling PGP Rotor and raises the bar with a variety of new features developed over three decades of research, customer feedback, and lab testing. Among the most notable improvements of the PGP Ultra is its non-strippable drive and automatic arc return. These two features work to allow the turret to be turned without causing damage, and return the turret to its original arc regardless of where it is turned. Other advanced features include 22 nozzle options with several radius choices, and a headed slot and set screw. The diversity of the PGP Ultra offers system installers an array of efficient options on any site.
Features:
Full-circle adjustment from 50 to 360 degrees
non-strippable drive mechanism with auto-arc return
headed and slotted nozzle retainer screw
improved dirty-water tolerance on the internal gear drive
3-Year warranty: The most reliable rotor on the market, now a longer warranty
Click to enquire
MP3500 Hunter Multi Stream Sprinkler
Application:
Code : MP3500
The revolutionary MP Rotator features a unique, multi-trajectory rotating stream delivery system that achieves water-conserving results. Rather than simply "spray" water onto landscapes, MP Rotators deliver multiple streams of water at a steady rate. This slower application rate allows water to gently soak into the soil and achieves an even distribution throughout the area being irrigated. This increased efficiency results in 30% less water use when compared to traditional sprays and significantly reduces wasteful runoff. The MP Rotator can be installed onto any conventional spray head body or shrub adapter, transforming them into high uniformity, low precipitation rate sprinklers with matched precipitation at any arc and any radius.
The MP Rotators are a great choice for new systems, as they provide immense range flexibility (from 5' strip to 35' radius), decrease material costs, and provide better system efficiency. MPs are also perfect for revitalizing older systems—a retrofit can solve both low pressure and poor coverage problems.
Features:
True matched precipitation
Radius can be reduced up 25% on all models
Double pop feature keeps dirt and debris out of nozzle
Removeable filter screen prevents large objects from clogging nozzles
Low precipitation rate
Adjustable arc and radius
Wind resistant multi stream technology
Colour coded for easy identification
Specifications:
| | |
| --- | --- |
| Recommended operating pressure | 275kPa |
Click to enquire