Our ProductsPrice Book
2019 – 2020 Price Book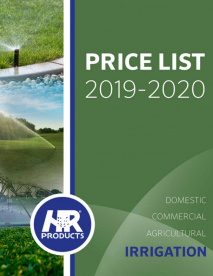 Application:
Click to enquire
Related
Products
VYR1610 15mm Plastic Impact Sprinkler
Hunter I-20 Commercial Rotor
Application:
Code : Hunter-I-20
With 22 nozzle choices, a 4.9 to 14.0 m radius, and 6 body choices, the I-20 is an indispensable rotor. Whether you've got a small area, sandy soil, or a mix of shrubs and grass, the I-20 is ready to water with efficiency and reliability. Recent improvements include automatic arc return; non-reversing 360, from 50 to 360 degrees; and a non-strippable, vandal-proof drive mechanism that prevents gear stripping and saves repair costs. Adding FloStop® control, easy through-the-top arc adjustment, and a standard drain-check valve all equate to a rotor that stands second-to-none in its class.
Features:
Patented non-reversing 360
Saves water, reduces liability
Automatic arc return
Blue square top nozzles
Patented non-strippable, vandal-proof drive mechanism
Five-year warranty
Thick rubber cover
Click to enquire
Hunter I25 Commercial Rotor
Application:
Code : Hunter-I25
The I-25 gets the job done with power, efficiency, and commercial-grade reliability. With a robust watering radius of 11.9 to 21.6 m, this rotor can be used in a variety of applications and environments. Its compact, highly durable design comes with an optional stainless steel riser for tough-as-nails strength. With a 5-year warranty, the I-25 also has options for reclaimed water ID and high-speed. A standard check valve is built in, and a wide selection of high performance nozzles are available. Efficient, tough, and built-to-last, Hunter's I-25 rotors work hard day in and day out so you don't have to.
Features:
Easy arc adjustment right from the top
Proven and tested water-lubricated gear drive system
Reclaimed option available
The perfect rotor for commercial and recreational sites
Click to enquire