- Australian Made- Valve Box
Valve Box Test
Application:
Code : HR-Valve-Box-Test
View independant test results onthreecommercial valve box makes carried out by Structural Materials and Assemblies Group of the University of South Australia, test was carried out to prove maximum load sustained, deflection at max load and average load rate.
Related
Products
Australian Made – HR Products – Complete Range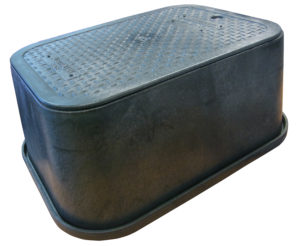 HR Products Inground Water Meter Valve Box
Application:
Code : HR1419-XXWM
HR Products water meter valve box designed for use as a domestic water meter cover with hinged hatch for easy water meter reading.
Manufactured from high performance polyethylene material.
Features:
Easy access hatch for fast meter reading
Made from polyethylene material
Strong load strength, supplied with inlay lid
Easy storage - insert stacking, Easy handling
Lid is fitted to body with stainless steel nut & bolt
Click to enquire
HR Products Class B Hydrant Cover
Application:
Code : HR1419-12HYDASSY
HR Products Class B hydrant cover designed for housing hydrants and large valves below ground in road verges.
Constructed from high performance glass filled polypropylene material. Complies to Australian Standard AS3996-1992
Metal Access covers, road grates and frames.
Features:
Complies to Australian Standard AS3996-1992 Metal Access covers, road grates and frames
Suitable for use within ambient temperature range -5° C to +65°C and relative humidity of 5% to 95%
Maximum weight complete Hydrant cover and base 9kg
Load carrying capacity of Hydrant cover and base
Cover incorporates a metal plate on underside of lid to locate buried hydrants using metal detector
Click to enquire