- WandOur Products
96304 – Multicolour 18″ 9 Pattern Wand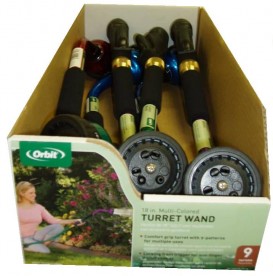 Application:
This wand is ideal for watering hanging baskets.
With multiple patterns it is versatile to many watering needs.
Features:
9 Spray patterns for versatility
Easy to use front trigger
Trigger has a lock on feature for constant spray
For outdoor use with cold water only
Click to enquire
Related
Products
Hunter PGJ
Application:
Code : PGJ
Hunters PGJ 15mm gear drive sprinkler suited for use around the home and commercial watering systems, complete with 40 to 360 degree arc setting, 8 nozzle choices, factory installed rubber cover, through the top arc adjustment, quick check arc mechanism, water lubricated gears, headed and slotted set screw.
Options – Reclaimed Water ID rubber cover, Drain Check Valve for upto 2m of elevation
Features:
Radius adjustment screw
Protective rubber cover
40°– 360° adjustable arc
Water-lubricated gear drive
Variable stator
Extra large filter screen
Optional factory-installed drain check valve
Specifications:
| | |
| --- | --- |
| Discharge rate: | 0.15 to 1.2 m3 /hr; 2.4 to 20.1 l/min |
| Radius | 4.6 to 11.3 m |
| Recommended pressure range | 2.1 to 3.4 bars; 206 to 344 kPa (30 to 50 PSI) |
| Operating pressure range | 1.4 to 6.9 bars; 137 to 689 kPa (20 to 100 PSI) |
| Precipitation rates: | approximately 16 mm per hour at 2.8 bars; 275 kPa (40 PSI) for spacings from 4.6 to 11.3 m |
| Nozzle trajectory: | approximately 14˚ |
Click to enquire
Hunter I25 Commercial Rotor
Application:
Code : Hunter-I25
The I-25 gets the job done with power, efficiency, and commercial-grade reliability. With a robust watering radius of 11.9 to 21.6 m, this rotor can be used in a variety of applications and environments. Its compact, highly durable design comes with an optional stainless steel riser for tough-as-nails strength. With a 5-year warranty, the I-25 also has options for reclaimed water ID and high-speed. A standard check valve is built in, and a wide selection of high performance nozzles are available. Efficient, tough, and built-to-last, Hunter's I-25 rotors work hard day in and day out so you don't have to.
Features:
Easy arc adjustment right from the top
Proven and tested water-lubricated gear drive system
Reclaimed option available
The perfect rotor for commercial and recreational sites
Click to enquire
Hunter PGP Ultra
Application:
Code : PGP04ULTRA
The PGP Ultra takes the foundation of the best-selling PGP Rotor and raises the bar with a variety of new features developed over three decades of research, customer feedback, and lab testing. Among the most notable improvements of the PGP Ultra is its non-strippable drive and automatic arc return. These two features work to allow the turret to be turned without causing damage, and return the turret to its original arc regardless of where it is turned. Other advanced features include 22 nozzle options with several radius choices, and a headed slot and set screw. The diversity of the PGP Ultra offers system installers an array of efficient options on any site.
Features:
Full-circle adjustment from 50 to 360 degrees
non-strippable drive mechanism with auto-arc return
headed and slotted nozzle retainer screw
improved dirty-water tolerance on the internal gear drive
3-Year warranty: The most reliable rotor on the market, now a longer warranty
Click to enquire