- WandOur Products
96103 – 36″ 9 Pattern Shower Wand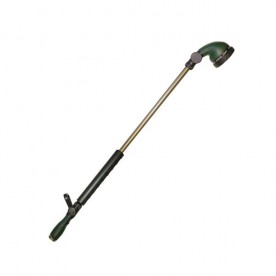 Application:
Features:
Versatile 9 Spray patterns
900mm Long
Lightweight yet sturdy construction
Swivel spray head
Ergonomic Shut off lever
Click to enquire
Related
Products
Hunter I40 Commercial Rotor
Application:
Code : Hunter-I40
The I-40 is a tough commercial rotor that delivers water with accuracy and efficiency at distances up to 23.2 m. Featuring diverse three-port nozzle options, a non-strippable drive, and a thick rubber cover built to prevent injury; it's no wonder this rotor is found in more stadiums than any other in the world. With the strength of stainless steel, the I-40 is built to last in the harshest sports, public park, and commercial environments. If efficiency, effective irrigation, and beautiful results are the goal, the I-40 is the irrigation professional's best solution.
Features:
Easy arc adjustment
Non-strippable, vandal-proof drive mechanism
Automatic arc return
Proven and tested water-lubricated gear drive system
Primary nozzle system has six interchangeable nozzles
Secondary nozzles offer exceptional coverage
Click to enquire
Hunter I25 Commercial Rotor
Application:
Code : Hunter-I25
The I-25 gets the job done with power, efficiency, and commercial-grade reliability. With a robust watering radius of 11.9 to 21.6 m, this rotor can be used in a variety of applications and environments. Its compact, highly durable design comes with an optional stainless steel riser for tough-as-nails strength. With a 5-year warranty, the I-25 also has options for reclaimed water ID and high-speed. A standard check valve is built in, and a wide selection of high performance nozzles are available. Efficient, tough, and built-to-last, Hunter's I-25 rotors work hard day in and day out so you don't have to.
Features:
Easy arc adjustment right from the top
Proven and tested water-lubricated gear drive system
Reclaimed option available
The perfect rotor for commercial and recreational sites
Click to enquire
Hunter MP Rotator
Application:
Code : MPXXX
The revolutionary MP Rotator features a unique, multi-trajectory rotating stream delivery system that achieves water-conserving results. Rather than simply "spray" water onto landscapes, MP Rotators deliver multiple streams of water at a steady rate. This slower application rate allows water to gently soak into the soil and achieves an even distribution throughout the area being irrigated. This increased efficiency results in 30% less water use when compared to traditional sprays and significantly reduces wasteful runoff. The MP Rotator can be installed onto any conventional spray head body or shrub adapter, transforming them into high uniformity, low precipitation rate sprinklers with matched precipitation at any arc and any radius.
The MP Rotators are a great choice for new systems, as they provide immense range flexibility (from 2.5 m to 10.7 m radius), decrease material costs, and provide better system efficiency. MPs are also perfect for revitalizing older systems—a retrofit can solve both low pressure and poor coverage problems.
Features:
High Uniformity
Low Precipitation Rate
Flexible Design Tool
Automatic Matched Precipitation
Proven Durability & Reliability
Quick, Easy, Arc and Radius Adjustments
Click to enquire