- WandOur Products
96103 – 36″ 9 Pattern Shower Wand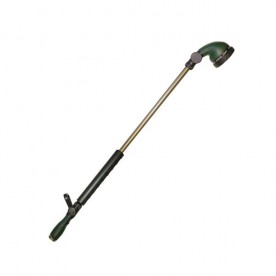 Application:
Features:
Versatile 9 Spray patterns
900mm Long
Lightweight yet sturdy construction
Swivel spray head
Ergonomic Shut off lever
Click to enquire
Related
Products
Hunter I40 Commercial Rotor
Application:
Code : Hunter-I40
The I-40 is a tough commercial rotor that delivers water with accuracy and efficiency at distances up to 23.2 m. Featuring diverse three-port nozzle options, a non-strippable drive, and a thick rubber cover built to prevent injury; it's no wonder this rotor is found in more stadiums than any other in the world. With the strength of stainless steel, the I-40 is built to last in the harshest sports, public park, and commercial environments. If efficiency, effective irrigation, and beautiful results are the goal, the I-40 is the irrigation professional's best solution.
Features:
Easy arc adjustment
Non-strippable, vandal-proof drive mechanism
Automatic arc return
Proven and tested water-lubricated gear drive system
Primary nozzle system has six interchangeable nozzles
Secondary nozzles offer exceptional coverage
Click to enquire
Hunter PGP Ultra
Application:
Code : PGP04ULTRA
The PGP Ultra takes the foundation of the best-selling PGP Rotor and raises the bar with a variety of new features developed over three decades of research, customer feedback, and lab testing. Among the most notable improvements of the PGP Ultra is its non-strippable drive and automatic arc return. These two features work to allow the turret to be turned without causing damage, and return the turret to its original arc regardless of where it is turned. Other advanced features include 22 nozzle options with several radius choices, and a headed slot and set screw. The diversity of the PGP Ultra offers system installers an array of efficient options on any site.
Features:
Full-circle adjustment from 50 to 360 degrees
non-strippable drive mechanism with auto-arc return
headed and slotted nozzle retainer screw
improved dirty-water tolerance on the internal gear drive
3-Year warranty: The most reliable rotor on the market, now a longer warranty
Click to enquire
Hunter PGP
Application:
Code : PGPADJ
The PGP® is Hunter's original product—the item that put the company on the map in 1981. Its exceptional design and impressive performance placed the rotor a cut above back then, and continuous improvements and enhancements have allowed it to remain the number one selling rotor in the world ever since. With the ability to deliver even water distribution from precision-engineered nozzles, this sprinkler is unequaled in reliability, durability, versatility, and value. With its endless built-in features and Hunter's years of experience in gear-drive technology, it's no wonder the PGP remains the professional's choice year after year.
Features:
Integral rubber cover with membrane covered sockets
Through-the-top adjustment
Quick check arc/fast forward
Complete set of interchangeable nozzles
Factory installed nozzles available
Radius adjustment of up to 25%
Reversing full-circle and part-circle operation in one unit
Proven, long-life water-lubricated gear drive
Specifications:
| | |
| --- | --- |
| Discharge rate: | 0.10 to 3.22 m3 /hr; 1.7 to 53.7 l/min |
| Radius | 6.4 to 15.8 m |
Click to enquire