- Tap Timer
Orbit 96014 Manual Tap Timer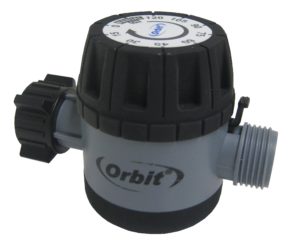 Application:
Features:
To operate simply turn timer to desired water time 15 > 120 minutes
Mechanical operation requires no batteries
Related
Products
Solem Bluetooth Tap Timer
Application:
Code : WFBLNR
Automatic irrigation of garden beds from the garden tap, includes misting using Solem bluetooth tap timer.
Flow rate: Min 0.03lpm Max 38lpm
Pressure: Min 50kpa Max 600kps
Features:
Bluetooth low energy communication (range 5m - 30m depending on surroundings)
Non volatile memory will save program on flat battery
Connects to 25mm and 20mm garden taps
Click to enquire
96956 Orbit Easy Dial Controller
Application:
Code : 96956
Orbit Easy Dial controller designed for use in home watering systems, large dial and display for easy programming and reading of station settings. Indoor mount available in 6 stations.
Features:
Irrigation controller operation 24 vac electric solenoid valves
2 Programs A & B
Upto 6 stations plus master valve / pump start
Water times from 1 minute upto 240 minutes
Upto 8 daily start times per day
Click to enquire
Galcon 9001 Battery operated tap timer
Application:
Code : 9001D
Two watering stations from one tap – using ALTVALVE Easy to install and use Operated with 9v alkaline battery (not included) Run times from 1 minute – 12 hours Four start times per day Individual day programming Manual activation at controller Rain off suspension option Rain sensor override ready Low battery indicator Internal filter installed in controller
Features:
Two watering stations from one tap - using ALTVALVE
Easy to install and use
Operated with 9v alkaline battery (not included)
Click to enquire