- AC 240 Volt- Commercial- DecoderControllers
Novo 32 Station 2 Wire Decoder
Application:
Code : W-NOV-U-230-TW-TK-DEC-1
The Underhill novo 32 station, 2 wire control system is idela for retro fitting to an existing controller or added more valves by just adding/using 2 existing wires.
Features:
Easily adapts to any multi-wire irrigation controller
Bold backlit graphic display
Built-in electrical diagnostics/faults finding
LightTouch™ button control
Related
Products
Hunter Wireless Flow Sensor (WFS)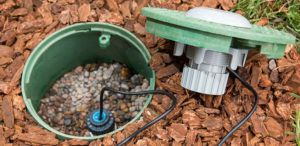 Features:
Feeds flow data to controller for flow recording and monitoring purposes
Robust waterproof construction
Provides station level flow monitoring for reaction to high or low flow conditions
Click to enquire
Hunter X-CORE Controllers
Application:
Code : X-CORE
Hunter Industries X Core residential irrigation controller offers simple operation with "smart" Solar Sync compatibility. With easy-to-configure control for up to 8 stations, including 3 programs and 4 start times each, the X-Core is the perfect solution for residential applications. Plug in the revolutionary Solar Sync ET sensor and the X-Core is converted into a "smart controller," that regulates irrigation runtimes based on locally measured weather. X-Core is also compatible with Hunter remotes for quick, wireless activation of irrigation. Installation, operation and maintenance are designed to be simple while still delivering optimal efficiency or reliability.
Features:
Solar Sync ET sensor compatible for automatic, daily, weather-based adjustments.
Remote control ready. Compatible with Hunter ROAM and ICR remotes.
Three independent programs with four start times each
Two options for seasonal adjustment
Variety of independent day scheduling
Click to enquire
Sterling Irrigation Controller
Application:
Code : SterlingXX
Sterling irrigation controllers provide an ideal solution for thecontrol of watering systems for golf courses, landscape urban areas, agricultural control andgerminationmisting systems. Available in 4, 8, 12, 18, 24, 30 and 36 stations.
Features:
Six independent programs that can run concurrently.
Up to 9 daily cycle starts per program; or, loop watering optional in all six programs for unlimited cycles.
No limit on the number of programs to which a station can be assigned (all six if desired).
Click to enquire