- DC 9-12Volt- Tap Timer-Tap Timer
96781 ORBIT HOSE END TAP TIMER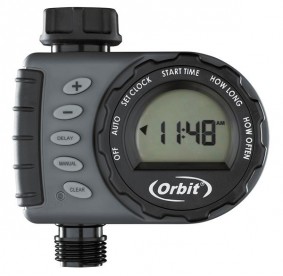 Application:
Code: 96781
Orbit's single station battery operated tap timer . Easy to program and install onto outdoor garden taps for control of drip and micro sprinkler watering systems.
Features:
Big LCD screen
7 Day calendar
4 watering start times
watering times from 1 to 360 minutes
Manual on / off operation
Related
Products
Solar Panel Node & XC Hybrid Controller
Application:
Code : SPNODE-SPXCH
Power Your XC Hybrid or Node Controller by Harnessing Solar Energy.
Hunter's Solar Panel provides maintenance-free operation that harnesses the sun's energy to power controllers 24 hours a day, 7 days a week for years on end. It is compatible with the XC Hybrid and Node controllers, which offer both on-the-wall and in-valve-box installation. Connecting the Solar Panel to either controller is an easy process that can be done quickly by any installer. Once connected, the Solar Panel supplies 100% of the controllers' power, and eliminates the need for battery replacements. Since there are no batteries involved, there's no need to worry about running out of power or scheduling replacement runs. So not only is the Solar Panel the most convenient solution for powering battery-operated controllers, it's the most environmentally friendly as well.
Features:
Add-On Accessory
Maintenance-Free Operation
Environmentally Friendly
Fully Charged Out of the Box
Click to enquire
DC-S Misting Controllers
Application:
Code : DCS-Misting-Controllers
Galcon DC-S series battery operated controllers available in 1, 6 and 12 station controllers. DC-S has loop watering suitable for misting applications in green houses or any sprinkler system that requires short periods of on / off irrigation. DC-S is IP68 rated allowing it to be buried below ground in valve box.
Features:
Weekly or cyclical programming
Up to 4 cycle starts per day
Station water time 1 second to 11 hrs 59 seconds
Click to enquire
Application:
Code : GSI
GALCON SMART IRRIGATION CONTROLLER – GSI is a web based irrigation controller that makes it easy to optimize your landscape or agricultural watering schedule from your PC using "cloud" based technology. Operation by smartphone. Real time alerts to email. Secured online management. Web based anywhere, anytime. Subscription free. Flow monitoring. Complete fertilizer control.
Features:
DC Controller – 12 station + master valve, battery operated
AC Controller – 12 or 24 station + master valve, AC connection
Pulse Water meter connection
Leak detection using pulse water meter
Fertilizer injection based on % of station on time (meter not supplied) see next page for more fertilizer options
Click to enquire