- DC 9-12Volt- Tap Timer-Tap Timer
96782 – Orbit 1 Dial 2 Outlet Tap Timer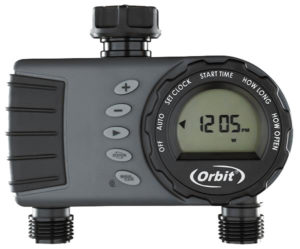 Application:
Complete timer control functionality makes this timer quick and easy to set.  A rain delay is built into the run program function.  Weather resistant and durable construction.
Features:
Three independent start times
Days if the week programming
Water from 1 to 360 minutes
1 to 7 day rain delay
Related
Products
Solar Panel Node & XC Hybrid Controller
Application:
Code : SPNODE-SPXCH
Power Your XC Hybrid or Node Controller by Harnessing Solar Energy.
Hunter's Solar Panel provides maintenance-free operation that harnesses the sun's energy to power controllers 24 hours a day, 7 days a week for years on end. It is compatible with the XC Hybrid and Node controllers, which offer both on-the-wall and in-valve-box installation. Connecting the Solar Panel to either controller is an easy process that can be done quickly by any installer. Once connected, the Solar Panel supplies 100% of the controllers' power, and eliminates the need for battery replacements. Since there are no batteries involved, there's no need to worry about running out of power or scheduling replacement runs. So not only is the Solar Panel the most convenient solution for powering battery-operated controllers, it's the most environmentally friendly as well.
Features:
Add-On Accessory
Maintenance-Free Operation
Environmentally Friendly
Fully Charged Out of the Box
Click to enquire
Galcon DC series Battery operated control
Application:
Code : DC
Galcon DC series battery operated controllers, available in 1, 4, and 6 station models. Used where power is not available and designed foruse in all landscape and home watering systems. All DC series models are IP 68 rated allowing them to be buried below ground in valve box. Search DC-S for misting applications
Features:
Independent programming of each valve (DC4)
Weekly or cyclical programming
Up to 4 cycle starts per day
Click to enquire
Galcon Alt Valve
Application:
Code : ALTVALVE
The Galcon Alternator Valve allows irrigation of two zones using a Galcon 9001D.
Used also to convert existing single zone valve into two zones.
Features:
Requires two cycle starts to switch between zones
Minimum working pressure 100kPa
Maximum working pressure 1013kPa
Click to enquire