- DC 9-12Volt- Tap Timer-Tap Timer
96781 – Orbit 1 Dial 1 Outlet Tap Timer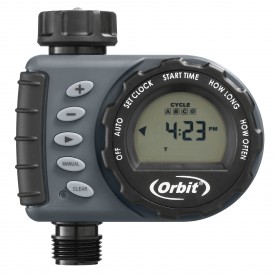 Application:
The Orbit 1 Dial 1 Outlet hose tap timer will turn your tap into a programmed sprinkler system in minutes.
No more dead plants because you forgot to water them…
No more soggy lawns because you forgot to turn the water off!!!
Just set the timer and go!!
Features:
Large LCD screen
7 day and interval programs
4 watering start times
Water from 1 to 360 minutes
Simple to program
Related
Products
96956 Orbit Easy Dial Controller
Application:
Code : 96956
Orbit Easy Dial controller designed for use in home watering systems, large dial and display for easy programming and reading of station settings. Indoor mount available in 6 stations.
Features:
Irrigation controller operation 24 vac electric solenoid valves
2 Programs A & B
Upto 6 stations plus master valve / pump start
Water times from 1 minute upto 240 minutes
Upto 8 daily start times per day
Click to enquire
96840 Battery Operated Controller
Application:
Code : 96840
Orbit 25mm battery operated valve, designed for use outside in home watering systems. Ideal for garden beds, drip systems and pop up sprinkler systems. Can be expanded to 4 valves. Uses Orbit Easy-Set programming logic.
Features:
Large LCD and Easy Dial
Two programs
4 start times per program
Selective day of week, interval (1-32 days), odd/even
Run time to 4 hours
Click to enquire
Galcon 9001 Battery operated tap timer
Application:
Code : 9001D
Two watering stations from one tap – using ALTVALVE Easy to install and use Operated with 9v alkaline battery (not included) Run times from 1 minute – 12 hours Four start times per day Individual day programming Manual activation at controller Rain off suspension option Rain sensor override ready Low battery indicator Internal filter installed in controller
Features:
Two watering stations from one tap - using ALTVALVE
Easy to install and use
Operated with 9v alkaline battery (not included)
Click to enquire