- DC 9-12Volt- Tap Timer-Tap Timer
96120 – Orbit Expandable Valve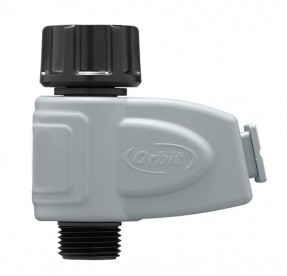 Application:
Additional valve for Complete Automatic Yard Watering. Leak free valve design completely waterproof for uninterrupted operation. Includes timer mounting bracket.
Features:
Completely waterproof for uninterrupted operation
Leak-free valve design
Additional valve for the Expandable Watering Timer ( 96783)
Related
Products
Orbit Controller 4 outlet unit c/w 2 valves
Application:
Code : 96012
Fully automatic yard watering kit turns your tap into a 4 station sprinkler system No digging is required to easily install this
watering system.
Features:
Supplied with 2 x auto valves
Easy to set and use
Simply set your timer to your desired start time and water duration
Rain delay feature for water conservation
Large LCD display for easy reading
Click to enquire
96840 Battery Operated Controller
Application:
Code : 96840
Orbit 25mm battery operated valve, designed for use outside in home watering systems. Ideal for garden beds, drip systems and pop up sprinkler systems. Can be expanded to 4 valves. Uses Orbit Easy-Set programming logic.
Features:
Large LCD and Easy Dial
Two programs
4 start times per program
Selective day of week, interval (1-32 days), odd/even
Run time to 4 hours
Click to enquire
Galcon DC series Battery operated control
Application:
Code : DC
Galcon DC series battery operated controllers, available in 1, 4, and 6 station models. Used where power is not available and designed foruse in all landscape and home watering systems. All DC series models are IP 68 rated allowing them to be buried below ground in valve box. Search DC-S for misting applications
Features:
Independent programming of each valve (DC4)
Weekly or cyclical programming
Up to 4 cycle starts per day
Click to enquire