- DC 9-12Volt- Tap Timer-Tap Timer
96120 – Orbit Expandable Valve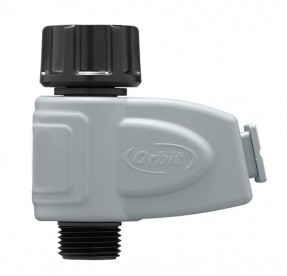 Application:
Additional valve for Complete Automatic Yard Watering. Leak free valve design completely waterproof for uninterrupted operation. Includes timer mounting bracket.
Features:
Completely waterproof for uninterrupted operation
Leak-free valve design
Additional valve for the Expandable Watering Timer ( 96783)
Related
Products
Galcon 7101 Battery Operated Valve IP68
Galcon DC series Battery operated control
Application:
Code : DC
Galcon DC series battery operated controllers, available in 1, 4, and 6 station models. Used where power is not available and designed foruse in all landscape and home watering systems. All DC series models are IP 68 rated allowing them to be buried below ground in valve box. Search DC-S for misting applications
Features:
Independent programming of each valve (DC4)
Weekly or cyclical programming
Up to 4 cycle starts per day
Click to enquire
Galcon Alt Valve
Application:
Code : ALTVALVE
The Galcon Alternator Valve allows irrigation of two zones using a Galcon 9001D.
Used also to convert existing single zone valve into two zones.
Features:
Requires two cycle starts to switch between zones
Minimum working pressure 100kPa
Maximum working pressure 1013kPa
Click to enquire