- DC 9-12Volt- Tap Timer-Tap Timer
96120 ORBIT BATTERY OPERATED VALVE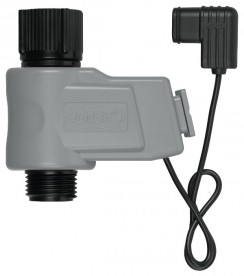 Application:
Features:
Additional valve for Orbit 96783 tap timer
Related
Products
Galcon 7101 Battery Operated Valve IP68
DC-S Misting Controllers
Application:
Code : DCS-Misting-Controllers
Galcon DC-S series battery operated controllers available in 1, 6 and 12 station controllers. DC-S has loop watering suitable for misting applications in green houses or any sprinkler system that requires short periods of on / off irrigation. DC-S is IP68 rated allowing it to be buried below ground in valve box.
Features:
Weekly or cyclical programming
Up to 4 cycle starts per day
Station water time 1 second to 11 hrs 59 seconds
Click to enquire
Galcon 9001 Battery operated tap timer
Application:
Code : 9001D
Two watering stations from one tap – using ALTVALVE Easy to install and use Operated with 9v alkaline battery (not included) Run times from 1 minute – 12 hours Four start times per day Individual day programming Manual activation at controller Rain off suspension option Rain sensor override ready Low battery indicator Internal filter installed in controller
Features:
Two watering stations from one tap - using ALTVALVE
Easy to install and use
Operated with 9v alkaline battery (not included)
Click to enquire