- DC 9-12Volt- Tap Timer-Tap Timer ControllersOur Products
96120 ORBIT BATTERY OPERATED VALVE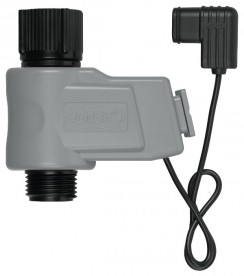 Application:
Features:
Additional valve for Orbit 96783 tap timer
Click to enquire
Related
Products
Galcon 7101 Battery Operated Valve IP68
XC – HYBRID Hunter Battery Control
Application:
The XC Hybrid Controller delivers extensive power without the plug. Built with highly efficient irrigation management features, the XC Hybrid operates DC-latching solenoids using a solar panel or battery power. XC Hybrid can also be powered with a 24 VAC plug-in adapter using DC-latching solenoids. Ready for both indoor or outdoor installations, the XC Hybrid is available in 6- and 12-station plastic or stainless steel models, meaning it's the right solution for a wide range of residential and commercial applications including residential areas, parks, gardens, roadway medians, and roundabouts. Easy Retrieve memory backup and on-board non-volatile memory provides assurance to easily recall the  controller's watering programs.
Features:
EASY DIAL PROGRAMMING
GLOBAL SEASONAL ADJUSTMENT (0% TO 150%)
THREE INDEPENDENT PROGRAMS WITH FOUR START TIMES EACH
INDEPENDENT DAY SCHEDULING CHOICE
BATTERY OPERATED
Click to enquire
Galcon Alt Valve
Application:
Code : ALTVALVE
The Galcon Alternator Valve allows irrigation of two zones using a Galcon 9001D.
Used also to convert existing single zone valve into two zones.
Features:
Requires two cycle starts to switch between zones
Minimum working pressure 100kPa
Maximum working pressure 1013kPa
Click to enquire