- DC 9-12Volt- Tap Timer-Tap Timer
96120 ORBIT BATTERY OPERATED VALVE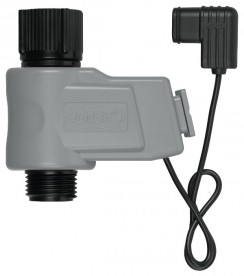 Application:
Features:
Additional valve for Orbit 96783 tap timer
Related
Products
Hunter NODE Battery operated valves
Application:
Code : NODE-XXX
The NODE brings battery-powered control to sites with no electricity in 1, 2, 4 and 6 stations, suitable for buriel in valve box, 3 programs, 4 start times per program, station run times 1 min – 6 hrs, operates DC latching solenoids, accepts single or double 9 volt batteries for extended system life, master valve operation available 2,4 and 6 station models, manual cycle,easy retrieve memory, rain sensor compatible and battery life indicator
IP68, CE rating
Features:
Standard Hunter controller programming
Control up to six zones
Waterproof and fully submersible to 12'/3.7 m
Long battery life
Rain Sensor compatible
Click to enquire
DC-S Misting Controllers
Application:
Code : DCS-Misting-Controllers
Galcon DC-S series battery operated controllers available in 1, 6 and 12 station controllers. DC-S has loop watering suitable for misting applications in green houses or any sprinkler system that requires short periods of on / off irrigation. DC-S is IP68 rated allowing it to be buried below ground in valve box.
Features:
Weekly or cyclical programming
Up to 4 cycle starts per day
Station water time 1 second to 11 hrs 59 seconds
Click to enquire
Hydro Rain Battery Operated Control
Application:
Code : HRC900
Hydro Rain – Battery Operated Controllers
Hydro Rains battery operated controller designed for use in watering systems when running wires is not an option. HRC 900 is durable enough to be installed below ground in a valve box providing reliable trouble free control. HRC 900's plug-in controller programming pod allows the user the ability of removing the pod from its water tight housing for convenient programming.
Add up to four valves, a rain/freeze sensor, and/or solar power module. (sold seperately)
Features:
Battery Powered 3 x AA Alkaline batteries (included)
Two Independent Programs (A and B)
Out of The Box Programming
Dual A/B program with 3 start times per program
Water Budgeting
Click to enquire