- DC 9-12Volt- Tap Timer-Tap Timer ControllersOur Products
96120 ORBIT BATTERY OPERATED VALVE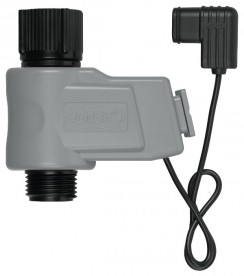 Application:
Features:
Additional valve for Orbit 96783 tap timer
Click to enquire
Related
Products
Solem battery WIFI
Orbit Controller 4 outlet unit c/w 2 valves
Application:
Code : 96012
Fully automatic yard watering kit turns your tap into a 4 station sprinkler system No digging is required to easily install this
watering system.
Features:
Supplied with 2 x auto valves
Easy to set and use
Simply set your timer to your desired start time and water duration
Rain delay feature for water conservation
Large LCD display for easy reading
Click to enquire
Solar Panel Node & XC Hybrid Controller
Application:
Code : SPNODE-SPXCH
Power Your XC Hybrid or Node Controller by Harnessing Solar Energy.
Hunter's Solar Panel provides maintenance-free operation that harnesses the sun's energy to power controllers 24 hours a day, 7 days a week for years on end. It is compatible with the XC Hybrid and Node controllers, which offer both on-the-wall and in-valve-box installation. Connecting the Solar Panel to either controller is an easy process that can be done quickly by any installer. Once connected, the Solar Panel supplies 100% of the controllers' power, and eliminates the need for battery replacements. Since there are no batteries involved, there's no need to worry about running out of power or scheduling replacement runs. So not only is the Solar Panel the most convenient solution for powering battery-operated controllers, it's the most environmentally friendly as well.
Features:
Add-On Accessory
Maintenance-Free Operation
Environmentally Friendly
Fully Charged Out of the Box
Click to enquire