- Bluetooth Enabled Controllers- Tap TimerOur ProductsWiFi Irrigation
Orbit B-Hyve Tap Timer – WIFI & Bluetooth #96504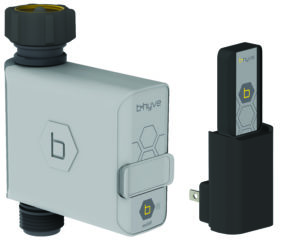 Application:
The B-hyve Smart Hose Faucet Timer with Wi-Fi hub gives you complete control over hose faucet watering from your smart device. No more dead plants because you forgot to water them. No more soggy lawns because you forgot to turn the water off . Download the free Android or iOS B-hyve App or use your computer with a Wi-Fi connection to program your timer. The Wi-Fi connection allows you to make changes to your programming from anywhere and allows the timer to receive instant weather updates. With instant updates, the timer will adjust the watering scheduling delivering just the right amount of water to your plants; this avoids wasting water with the added benefit of saving on your water bill. Manual watering is available on the timer so you can water without using your phone.
Add on additional smart valves to create multiple watering zones in your yard, these timers will network together to boost the signal strength without the use of repeaters.
Need help pairing your device, here is a handy link to make it simple.
Features:
Complete control over hose faucet watering from your smart device (Wi-Fi or Bluetooth)
Program the timer using the B-hyve App (Android, iOS, or web)
Up to 4 sart times per day
Select days, odds/even dates or skip days
Up to 4 hour run times
Built in flow sensor
Add on additional smart timers to create multiple watering zones in your yard (sold separately)
Requires Wi-Fi connection to control from anywhere
Click to enquire