Category:
Valves
Browse our extensive range of top quality all-purpose Irrigation Valves
Irrigation and sprinkler valves are at the heart of your watering system. HR Products distributes one of the broadest ranges of irrigation valves in the industry, designed for use in all irrigation systems, turf, landscape and watering projects. From low flow to high flow, clean water to dirty water, low pressure to high pressure, there are irrigation and sprinkler valves to suit your requirements.
We stock all the leading brands such as Hunter Industries, Orbit, HR, MV series, and Hansen. We're just a call away, so contact us now.
Read More
Manage flow
We stock Hansen irrigation and sprinkler valves which help to manage water flow. The valves include:
Ball – Full flow ball irrigation valves can be used anywhere the flow of fluid needs to be stopped or started.
Check – High flow, these are used in-line as a non-return valve to stop fluids flowing back through your system. The unique design provides exceptional flow rates, which means you can move more water in less time saving on pumping costs.
Foot – Foot irrigation valves are used on the end of a suction line to stop fluids in the line emptying when the pump is turned off, eliminating the need to prime pumps at start up. It includes a built-in strainer and operates at any angle or position.
Trough – These deliver high volumes of water with an unrestricted full flow. The complete range of Hansen plastic and brass trough valves allows control of water levels across many styles of troughs and tanks.
Durable construction
If you're looking for tough irrigation system valves, then consider our Hunter sprinkler valves. We stock a complete line-up of sturdy, professional-grade products designed to handle the full range of landscape needs.
Hunter's range of irrigation solenoid valves (SRV, PGV-Jar Top, PGV, ICV, ICV- Filter Sentry and ACCUSYNC) offers control across a wide range of turf watering systems. All models feature durable high-grade construction and a robust diaphragm with a support mechanism to prevent stress failure.
Get flow control
Whether you want to isolate water, control volume or prevent backflow, HR Products has a solution for your project.
Why choose us?
Our irrigation valves will save you time, money and more importantly, water. In addition, HR Products promises to provide you with quality products that ensure value and performance.
Contact us today to inspect our product range.
Read Less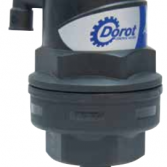 CODE DAVPBSP1A DAVPBSP2KA Trapped air in a pressurized pipeline can have serious effects on system operation and efficiency. As air pockets accumulate at high points, this reduces the effective cross section of the pipeline in their location, decreasing the water flow and increasing energy consumption required to pump the water through, reducing the overall system efficiency.
Read More
Read More