Category:
- Drip Irrigation
If you are in the agricultural trade or an avid gardener, our drip irrigation kits are for you.
As the name suggests, these systems provide a wetted strip to the roots of the plants or crops. This is different to a sprinkler hose that sprays the water across the area. Investing in drip irrigation systems results in less evaporation as the water is targeted at where it is needed the most.
In addition to high-quality sprinkler systems, HR Products also offers a range of timers and parts, allowing us to provide our clients with a comprehensive shopping experience.
Contact our expert team today if you'd like to know more about any of our products.
Contact us today to find out more about watering systems, sprinkler timers or any of our product lines.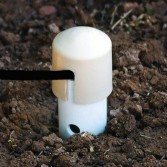 Water and fertilize your trees at the roots, encouraging deeper roots and healthier trees with DeepDrip™ stakes. Water gets underground fast, so you can irrigate for shorter periods and save water. They also help aerate the soil, and you can add fertilizer into the shaft to direct nutrients to the root zone.Use the 14″ (35cm) stake for shallow root trees and shrubs, like rose bushes and ornamental trees (or boxed trees). The 24″(60cm) stake is best for most other tree varieties except for palms and similarly deeper rooted trees,
Read More
Read More