Category:
LDPE Pipe
Used on the discharge side of your solenoid valves in low pressure applications like, micro, spray or smaller pop-up sprinklers.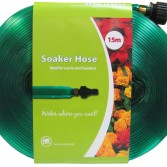 HR-SOAKER7.5 - Soaker Hose • Perfect for watering garden beds, lawns and nature strips • Can be used as either a sprinkler, which provides rain-like coverage, or a soaker for deeper watering • Includes a snap-on connector and adaptor to connect easily to any standard tap • Hard wearing UV treated construction HR96019 - Weeper Hose • Full length, slow and steady fl ow watering • Ideal for gardens, fl owerbeds, closely planted areas • Consistent watering along the entire length • Made from 65% recycled tyres • Q
Read More
Read More
Code : HRDNPC HR - LANDSCAPE DRIPLINE Suitable for Lawns, shrubs, trees and flower beds. Best suited for level ground applications either on surface or under mulch installations.
Read More
Read More
Code : HRDPC Suitable for Lawns, shrubs, trees and fl ower beds. Ideal for slopes and long narrow applications, on surface, under mulch or subsurface installations.
Read More
Read More